Hier der Beweis, dass ich nicht nur neue Beautyprodukte kaufe, sondern sie auch verbrauche!
Hier das, was sich im Juli verabschiedet hat: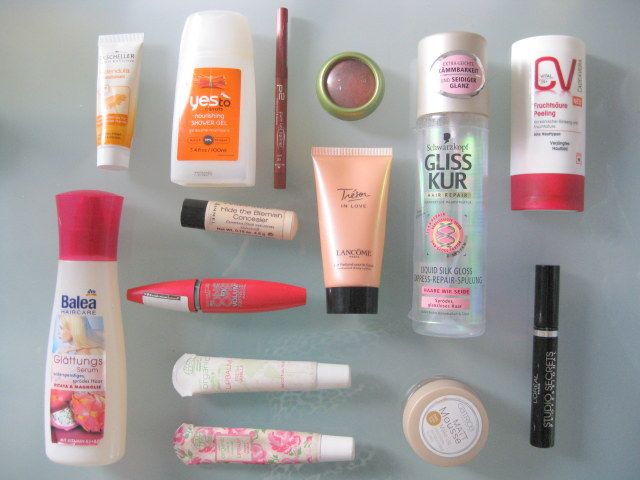 1. Dr. Scheller Handcreme
2. Balea Glättungs Serum
3. Yes to carrots Shower Gel
4. Hide the Blemish Concealer
5. Maybelline One by One Mascara
6.+7. H&M Lippenpflege
8. p2 Lipliner
9. Lancome Tresor Body Lotion
10. Alverde Blush
11. Gliss Kur Sprüh Kur
12. Catrice Matt Mousse Make-Up
13. Müller Fruchtsäurepeeling
14. L'Oreal Studio Secrets Mascara Base
Was ich nachgekauft habe? Eigentlich NICHTS! Von dem Matt Mousse Make-Up von Catrice habe ich noch 2 Back-Ups, aber eigentlich bin ich mit meinen BB Creams und der Lumi Foundation von L'oreal im Moment viel zufriedener. Auch von der L'oreal Mascara Base habe ich noch ein Back-Up, welches ich gestern angebrochen habe. Die anderen Sachen waren ganz ok, aber keines ist für mich ein unbedingtes Nachkaufprodukt und ich bin bei den meisten Sachen recht froh, dass sie mich nun verlassen haben!
Also bleibt nur zu sagen: Bye, bye! ;)